Veterans Day 2016
November 11 is Veterans Day, the national holiday dedicated to honoring all who have served in America's armed forces.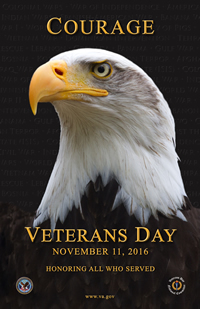 It was originally known as Armistice Day because the armistice or temporary cessation of hostilities for World War I took effect on the eleventh hour of the eleventh day of the eleventh month. For a complete history of Veterans Day, visit www1.va.gov/opa/vetsday/vetdayhistory.asp.
For information on national and regional observances, Veterans Day history, resources for students and teachers or to download the Veterans Day poster, visit www.va.gov/vetsday.
2016 Veterans Day Restaurant, Retail and Travel Deals
Please visit the following websites below for deals of all kinds:
Note: some are located within Minnesota and others are across the county.
Military Benefits: militarybenefits.info/veterans-day-discounts-sales-deals-free-meals/
Military.com:
The Military Wallet: themilitarywallet.com/veterans-day-free-meals-and-discounts/
Minnesota Zoo
The Minnesota Zoo salutes our troops with special discounts and promotions throughout the year. Individuals eligible for military discounts and promotions include current, former, and retired members and family members of the US Military, National Guard, and Reserve in the United States (including Puerto Rico). Valid military ID or proof of military service is required. No other discounts apply and not valid for special programs or exhibits.
November 11, 2016 – January 2, 2017:
Zoo - Military personnel receive free admission, free parking, and half-price admission for family members.
SSA Gift Shops - Military personnel receive 20% discount on purchasing, excluding promotional items.
Lancer Food Service - Military personnel receive 10% discount on food purchases, excluding alcohol.
IMAX Theatre - Military personnel and family members receive $3 off general admission tickets at theatre box office with valid military ID.
Note: All year long Military personnel receive $2 off regular admission and $1 off regular admission for family members.
2016 Veterans Day Events
Note: Some events are not on November 11th.
Alexandria - Veterans Day Program
The Vietnam Veterans of America Chapter 235 in Alexandria will host a program to honor Veterans for their service at 11 a.m. at the Lake Community Church.
Augsburg College's Veterans & Service Members' Dinner
On November 10 come visit Augsburg College along with other Veterans, Veteran advisers, college staff, and more to learn more about Augsburg's Veteran student support services, the transfer and graduate application and enrollment processes, and how to fulfill your educational pathway. Dinner will be served. The event goes from 5 – 6:30 p.m. Please RSVP via phone by calling (612) 330-1001 or via an email to transfer@augsburg.edu.
Fergus Falls Veterans Home Veterans Day Program
On Nov. 11 at 10 a.m. staff will host "Coffee with a Vet" in the Breezeway at the Veterans Home. The Community is invited to stop by and have a cup of coffee with Residents. At 2 p.m. there is a Veterans Day Program in the dining room. The main speaker is Joe Hjelmstad, Grant County Veterans Service Officer.  He is currently the Command Sergeant Major (CSM) of the 1/34 Armored Brigade Combat team in Bloomington, MN. Music will be provided by the Veterans Home Choir. The  color guard will be provided by the American Legion Post #30 and the VFW Post 612 all from Fergus Falls. The Veterans Home Honor Guard will also be participating in this program. Join the Fergus Falls Veterans Home as they honor and thank all Veterans!
Fort Snelling National Cemetery
There will be two events that may interest you at the Fort Snelling National Cemetery on Friday, November 11, 2016.
At 9 AM the Fort Snelling National Cemetery Memorial Rifle Squad will preform Military Honors for a World War One veteran whose remains will be inturned at the cemetery. The veteran passed away a couple decades ago, but for reason the remains were never formally inurned. Members of the veterans family will be at the service.
At 10 AM several local musicians will gather at the Cemetery Main Flag Poll and conduct a "Rolling Taps" ceremony to honor all our fallen and passed veterans on Veterans Day.
Hastings Veterans Home Veterans Day Program
There will be a Veterans Day Program at the Hastings Veterans Home beginning at 2 p.m. in the gym. The key note speaker is Lee Ulferts, Past Department Commander of the VFW, Vietnam Veteran and a Marine. All are welcome, refreshments will follow the program.
Hopkins VFW Post#425 - Salute Our Veterans!
The Community Action Partnership for Suburban Hennepin invites you to support our Veterans by joining us at Hopkins VFW in honor of Veterans Day on Thursday, November 10 at 6 p.m.  There will be live music by The Usual Suspects, food and raffle prizes! 100% of proceeds from this event will directly impact Veterans and their families across Hennepin County.
Luverne Veterans Home Veterans Day Program
The Veterans Day program at the Minnesota Veterans Home - Luverne is scheduled for Friday, November 11, 2016 beginning at 2:30 p.m. The keynote speaker will be Deb Grote, Watonwan County Veterans Service Officer.
Minneapolis Veterans Home Veterans Day Program
The Veterans Day Program at the Veterans Home-Minneapolis will held in Building 19 in the Community Room. The program will begin at 2 p.m. with this year's guest speaker, Gary Anderson, Past Department Commander, VFW.
North St. Paul American Legion Post 39
Free SOS Lunch for Veterans. On November 11 starting at 11 a.m. at the American Legion Post 39 in North St. Paul there will be a free SOS lunch for Veterans. Chipped beef on toast, served with a fruit cup. There will be a special lunch menu for non-Veterans.
Red Wing - American Legion Post 54 Veterans Luncheon
There will be a Veterans luncheon on November 11 at the American Legion Post 54. This event is sponsored by the Leo C Peterson Post #54 and the Hiawatha Valley Beyond the Yellow Ribbon.
State of Minnesota Veterans Day Event
There will be a free breakfast from 8:30 to 9:30 a.m. followed by a program at 10 a.m. The event is located at the Veterans Memorial Community Center, 8055 Barbara Ave, Inver Grove Heights, MN.
St. Cloud VA – Veterans Day Program
On November 11 there will be a Veterans Day Program at 1:30 p.m. at the St. Cloud VA Building 8 Auditorium. The keynote speaker is Stearns County Veterans Service Officer Cory Vaske. Parking is available to the north and east of Building 8. Veterans, their families and members of the public are invited to attend. The event is sponsored by the St. Cloud Metropolitan Veterans Council.
St. Cloud – Abraham Lincoln Statue Rededication
Area Veterans are invited to attend the Abraham Lincoln Statue Rededication ceremony at 11 a.m. at the River's Edge Convention Center. In 1916, in the midst of World War I, St. Cloud Mayor Peter J. Seberger and local Civil War Veterans created a plan and raised funds to erect a statue as a tribute to war Veterans. President Abraham Lincoln was chosen to symbolize peace and freedom. The statue was originally dedicated in 1918. The event is sponsored by the City of St. Cloud.
Silver Bay Veterans Home Veterans Day Program
The Silver Bay Veterans Day program will be on November 11 at 10:30 a.m. at the Veterans Home.
Wayzata - Lake Minnetonka DAR to Host 4th Annual Event to Honor Veterans Day
The Lake Minnetonka Chapter of the National Society Daughters of the American Revolution will honor Veterans through its fifth annual Veterans Day salute, the "Plant a Flag for Freedom" event. This event is a great opportunity for all family and community members to recognize Veterans by planting a flag in their honor. Hundreds of flags provided by DAR volunteers will 'blanket' Heritage Park in Wayzata. With each flag planted, the name of the Veteran will be registered on an Honor Board. With the 50th Anniversary of the Vietnam War, special recognition will be given to those Veterans, while honoring all Veterans from the World Wars through present day conflicts. Join the DAR  anytime between 11 a.m. to 1 p.m. on Friday, Nov. 11 to honor your Veteran. Refreshments and flags provided. Heritage Park is located at Wayzata Boulevard and Highway 101 in Wayzata.