2017 National POW/MIA Recognition Day
National POW/MIA Recognition Day will be observed on Friday, Sept. 15, 2017.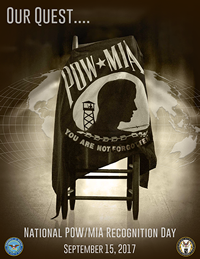 This annual event honors our missing service members and their families, and highlights the government's commitment to account for them. Across the country, local POW/MIA ceremonies are encouraged throughout POW/MIA Recognition Week, culminating with countless events and the national ceremony in Washington, DC, on Recognition Day.
Support for these missing Americans and their families is deeply felt. America's POW/MIAs should be honored and recognized, rather than memorialized, with the focus on continuing commitment to account as fully as possible for those still missing. Strong, united support by the American people is crucial to achieving concrete answers.
For more information, go to: